"My ChatGPT isn't working properly."
"I can't log in, and it's not responding at all."
Just as OpenAI released a series of new features recently, ChatGPT experienced prolonged service disruptions last Wednesday. Subsequently, OpenAI issued a statement revealing that they were facing periodic outages across ChatGPT and the API due to a reflective Distributed Denial of Service (DDoS) attack.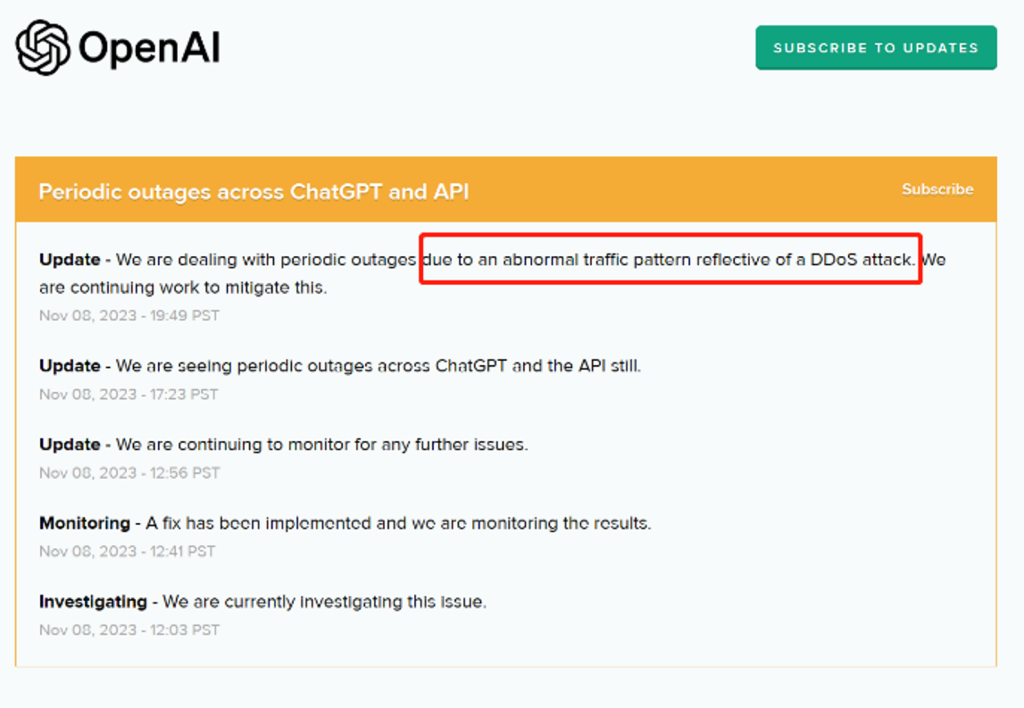 The decision by OpenAI to announce new features not only caught the attention of numerous regular users but also drew the interest of some attackers. Exploiting the high traffic during the new feature release, attackers, aware that the network resources might be close to saturation due to the peak in regular business operations, initiated a DDoS attack. This easily became the straw that broke the camel's back, causing periodic interruptions in OpenAI's operations.
Moreover, attackers typically seek maximum destructive impact. Launching a DDoS attack during critical moments for OpenAI can make more regular users perceive service interruptions, directly affecting clients at a business level and causing greater economic losses and damage to corporate reputation.
For many critical services that need special protection, attackers favor this 'low-cost, high-return' method to flood the client's business bandwidth, quickly rendering the service unavailable. Facing such cost-effective attacks, NSFOCUS's Cloud DDoS Protection Service (DPS) utilizes abundant cloud bandwidth resources and employs the NSFOCUS Anti-DDoS System (NSFOCUS ADS) to provide clients with professional traffic scrubbing service in the cloud. NSFOCUS DPS helps alleviate client bandwidth and workload pressure with the feature of quick online and 24/7 security expert monitoring.
The service disruption caused by the DDoS attack lasted for about two hours and continued to occur afterward. Such prolonged business interruptions had a significant impact on clients, and the lack of detailed attack characteristics hampered effective countermeasures. NSFOCUS ADS is an on-premises traffic scrubbing device that, in its new version, has optimized packet capture and forensic analysis capabilities. It supports extensive packet signature extraction to quickly understand attack characteristics, enabling users to take accurate defense actions immediately to mitigate the impact of the attack.
With over 20 years of experience in the field of DDoS defense and research, NSFOCUS is recognized for its highly reliable, scalable, and intelligent solutions. According to the "IDC MarketShare: China's Anti-DDoS Hardware Security Product Market Share, 2022: Opportunities and Challenges Coexist" report, NSFOCUS holds the leading position with a market share of 24.6%. It has consistently maintained this top position in the product field, ranking in the Top 10 in Worldwide Application Protection and Availability Market Shares for 2020 and 2021. To continue delivering high-performance solutions that efficiently identify and filter DDoS traffic, NSFOCUS ADS not only achieves terabyte-level protection capability on a single appliance but also improves the product and service with strengthened defense algorithms in the new version. In the latest version, NSFOCUS ADS introduces programmable counter capabilities on the data plane, breaking free from the conventional use of fixed rules that limit flexibility and protection capabilities. It also uses targeted algorithms designed for defense against botnet hosts and carpet-bombing attacks, ensuring the continuous advancement of protection algorithms and commitment to providing clients with the latest protection measures.
In the face of severe network threats, we continuously enhance our cyber security technology, ensuring the constant advancement of protection algorithms to guarantee you the immediate use of stable and reliable traffic scrubbing services when needed most. In this challenging digital era, choosing a trusted network security partner is crucial, and we are the solid backbone in your journey towards network security.
Want to learn more? Contact us today to request a demo of the NSFOCUS Anti-DDoS solution!