Value-Added Service Solution for ISP/MSP
DDoS Mitigation
NSFOCUS Provider-for-Providers Strategy
Most ISP/MSP (Service Providers) has agreed that they need to move forward to transform their cybersecurity solutions from traditional on-premise, standalone appliances to more comprehensive, subscription-based SaaS service to bring their customers with easy-to-get, flexible security services to react to evolving modern threats. To become a Managed Security Service Provider will also increase user loyalty of network services when facing fierce competition from other Service Providers.
And this is where NSFOCUS comes in. Since 2016, NSFOCUS has been partnering with global top 10 service providers and renowned national and regional ones, empowering them with NSFOCUS security products, solutions, service support, operational platforms, operational support, go-to-market and financing support. Till now, NSFOCUS have helped Service Providers to offering value added services to over 1,000 customers.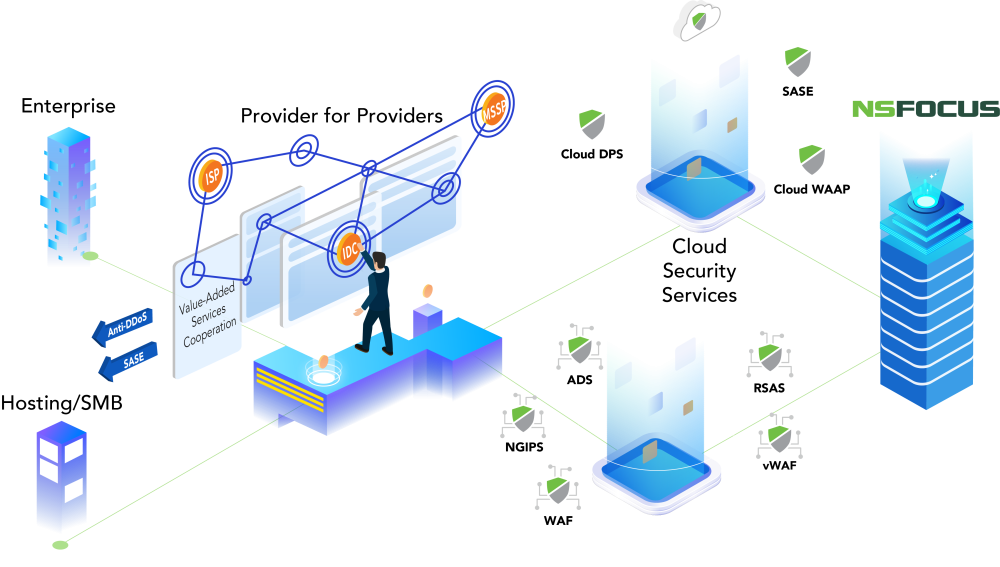 Value-Added Service Solution for Service Providers

In typical scenario with NSFOCUS Value-Added Service Solution, Service Providers could launch its DDoS mitigation service as an add-up to its network services include Internet Access, SD-WAN and MPLS services or form a comprehensive Managed Security Service package including its Firewall/WAF services and hold the possibility to expand its portfolio using NSFOCUS Zero Trust, Secure Access Service Edge (SASE) and Cloud Web Application and API Protection (Cloud WAAP) solution suite.
Security Hardware/Software/Platform
DDoS Mitigation
Zero Trust/SASE
Cloud WAAP
Service & Training Support
7/24 Product support
7/24 Security Operation Center support on-demand
Access to online training resources
NSFOCUS Certified Training Program
Innovative Financing Support
Revenue Share
Pay-as-You-Use
Zero CAPEX possible
Go-to-Market Support
Sales training
Market analysis and competition strategy
Product and pricing design
Joint marketing events
Plan Your DDoS Mitigation Services
NSFOCUS suggest that Service Providers can plan its DDoS Mitigation Service with total capacity at 20Gbps-80Gbps at startup phase, offering both L3/L4 and L7 DDoS protection.
Varied service packages to the customer are also made possible. From usage perspective, both unlimited mitigation per month and 1 to 3 mitigations per month can be offered. Protection capacity could be set at different levels from ranging from 1Gbps to 20Gbps and simply combine the above two factors could lead to a comprehensive service plan.
Basic Suite:
Network Traffic Analyzer (NTA)
NTA consumes xFlow data from border, core, and edge routers and detects DDoS attacks in real-time. It then engages the ADS to remove DDoS attack traffic from legitimate traffic streams.
Anti-DDoS System (ADS)
NSFOCUS Anti-DDoS system provides real-time mitigation for all classes of DDoS attacks. Legitimate traffic continues to flow through the technology with no impact to your customers.
Unified Management
Unified management platform support not only the centralized configuration of ADS and NTA, but also provides visibility in traffic monitoring, log information, and detailed attack history for post-analysis. It enables Service Providers to deliver basic reports to customers.
Add-ons:
Partner and Customer Portal
NSFOCUS offers both management portal and self-serviced user portal with Service Provider logo on them. Customer could use their user portal for real time traffic monitoring, attack statistics, post-attack data review and online/offline reports.
Cloud DDoS Protection Service (Cloud DPS)
For high-end customers who would like to have their network always uninterrupted under mass volume DDoS attacks (can be 100G to 1000G) over Service Provider's local protection capacity, Service Providers could choose to automatically divert traffic to Cloud DPS which carries global distributed super scrubbing centers with Terabit capacity.
NSFOCUS Threat Intelligence (NTI)
Thanks to NSFOCUS Security Lab – a worldwide team of researchers and engineers who create verified in-house threat intelligence using data collected from 15,000+ NSFOCUS monitored sensors, honeypots and managed networks worldwide, all NSFOCUS Security Services are backed by NTI with IP reputation, malicious URL, command & control botnet and malware data feed. This could help Service Providers to enhance the performance of their DDoS mitigation service against ever changing attacks.