Strategic, Trusted, and Responsive (STAR)
NSFOCUS is committed to helping our customers mitigate risk, protect their valued assets, and maintain continuity of their business services. Our strategy is to provide the most competitive security solutions and services for customers and to be the world's most reliable Intelligent Hybrid Security Company.
Partner Benefits
The STAR program was built on 3 key principles to better serve you and our mutual growth together. Our partners can rest assured that we are: Strategic, Trusted, And Responsive (STAR).
We're committed to being strategic in our qualitative approach to partnering, by not flooding the market with one-off partnerships and minimizing channel-conflicts. We will earn your trust by being transparent, reliable, and consistent. And finally, we are committed to being responsive and having the sense of urgency that you require to run your business.
Product & Support Discount
Deal Registration
Partner Promotion on Our Website
Sponsorship Opportunities
Technical and Sales Training
Marketing Resources
Sales Incentive Programs
Dedicated Channel Management Team
Marketing Development Funds
And Much More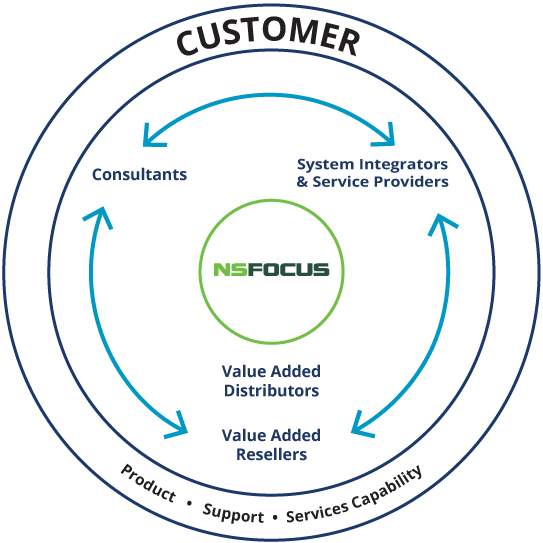 Program Overview
NSFOCUS is committed to providing a win-win partnership that enables you to develop new market opportunities and grow your business. As a valued partner, you'll get exclusive access to an abundance of resources to create new business opportunities and increase profit. The NSFOCUS STAR Partner Program was designed with the goal of developing a lasting, scalable business with you, our valued partner. We don't want to partner with everyone, just those who share our vision of delivering excellent customer service and providing comprehensive protection from today's advanced cyber threats.