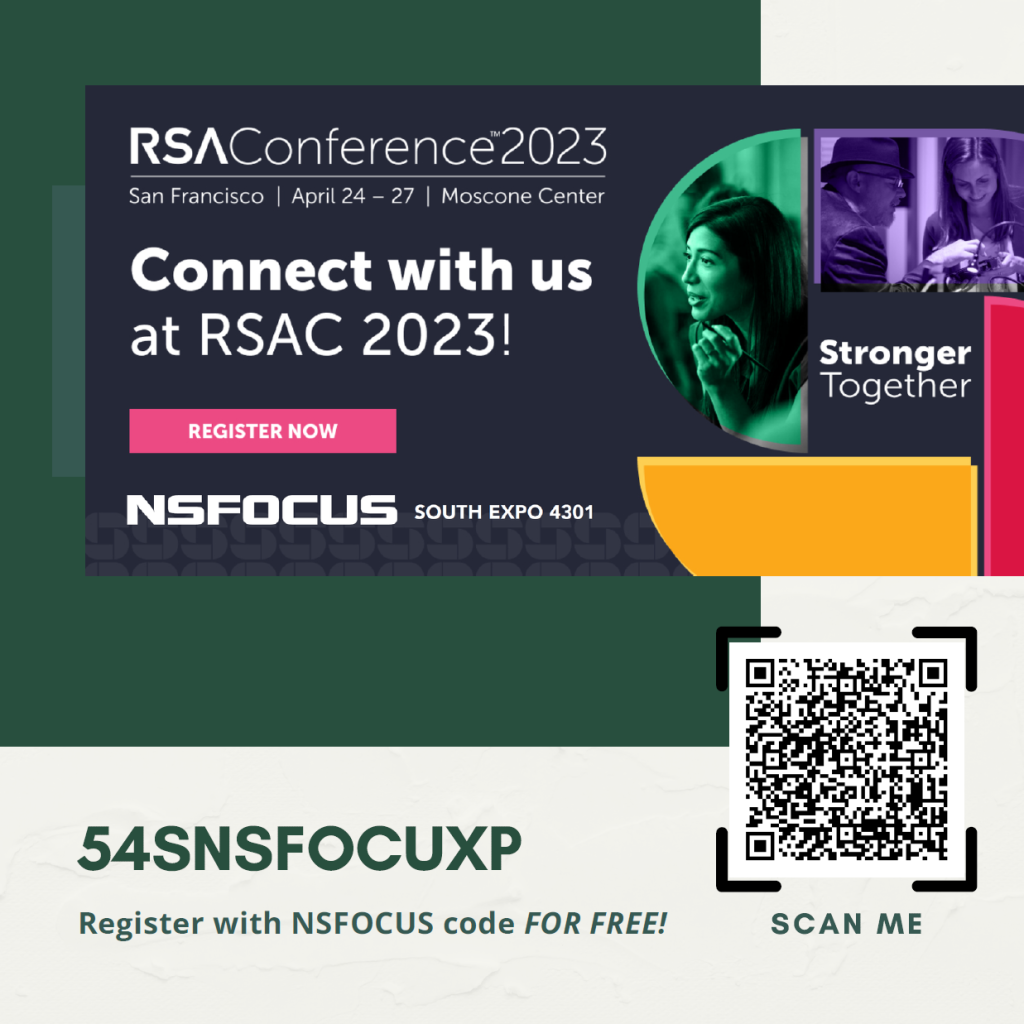 Moscone Center, South Hall, Booth # 4301 – San Francisco, CA, United States
We are exhibiting at RSA Conference 2023. This is a great opportunity for you to network with cybersecurity's forward-thinking global community and explore innovative, new technology. Connect with NSFOCUS executives and security experts to discuss how to manage unexpected risks with the best fit security solutions.
Experience Demos:
Active Defense Business Operation System: To learn how to manage cyber threats on one platform.
Anti-DDoS System: To learn AI-powered DDoS mitigation system and how to rest assured that your network is well-protected against the ever-evolving threat of DDoS attacks.
Web Application and API Protection: To learn how to protect increasingly deployed applications and APIs against automated attacks, bots and API-specific threats.
Next-Generation Firewall Wall: To learn how NSFOCUS's firewall protects your network from a wide variety of malicious attacks and malware comprehensively and powerfully.
Threat Intelligence: A truly global threat intelligence like no other.
NSFOCUS Speech (Briefing Center South):
Tuesday, Apr. 25, 2023 1:40 PM – 2:00 PM PT
Reshaping Cyber Security with the Evolving SOC-as-a-Service
In this speech, we introduce the way to make security simple and smart, using one architecture to enable all security capabilities for ISPs, MSSPs, Hosting Providers and other partners who want to augment value-added services for their own clients.
Looking Forward to Seeing You at the Booth
If you also want to attend, we are offering complimentary Expo Passes for you. Register with our Free Expo Pass Code: 54SNSFOCUXP
We look forward to meeting you at our booth!
South Expo, Booth 4301
​​(All times are Pacific Standard Time)
Monday, Apr 24th | 5:00 pm – 7:00 pm (Exhibits and Welcome Reception)
Tuesday, Apr 25th | 10:00 am – 6:00 pm
Wednesday, Apr 26th | 10:00 am – 6:00 pm
Thursday, Apr 27th | 10:00 am – 3:00 pm