On-Premises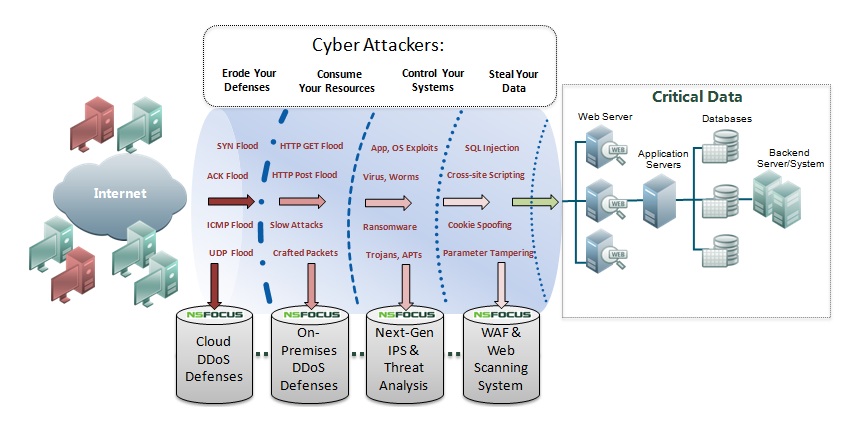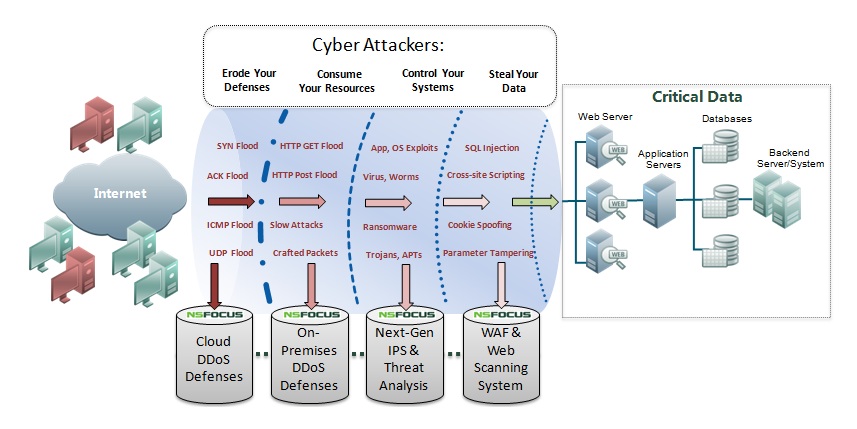 NSFOCUS provides comprehensive, multi-layer, on-premises security solutions that protect your critical assets and ensure the availability of important business systems. From the network to the application layer, each security product has been designed to detect and mitigate specific classes of attacks and protect you from known, zero-day and advance persistent threats. These attacks include but are not limited to:
Malware

Ransomware

Botnets

Spyware

Web Threats

Data Leakage

DDoS Attacks

Phishing

Virus

Back-door Trojans

IP Protocol Attacks

Brute Force Cracking

Scanning and Probing

Security Policy Violations

OWASP Top 10

Cross-Site Scripting (XSS)

Injection

Cross-site Request Forgery (CSRF)

Remote File Inclusion (RFI)

Path Traversal

Illegal file upload/download restriction

Malicious scanning

Webshell

Anti-Crawlers

Anti-Leech

Brute force

Sensitive data exposure

Content filtering

Cookie signing/encryption

Sensitive information filtering Web Server Security

Web server/plug-in vulnerabilities signatures
These solutions include
Anti-DDoS System (ADS)
,
Web Application Firewall (WAF)
,
Next Generation IPS (NGIPS)
with Threat Analysis (sandboxing) and integrated
Threat Intelligence (TI)
Data Feeds. The products can be deployed separately or work together to ensure only legitimate traffic reaches your critical infrastructure.
For more information, please download our product datasheets.