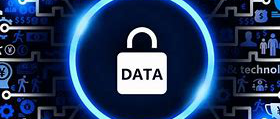 NSFOCUS has been recognized as one of the Representative Vendors in the Report of Tool: Vendor Identification for Data Loss Prevention 2022 1.
The COVID-19 pandemic has accelerated the process of digital transformation. With the vigorous development of digital economy and information industry, the rapid implementation and application of 5G, zero trust, AI, and blockchain technologies have promoted economic transformation and industrial upgrading. Meanwhile, massive high-value data is constantly generated. How to secure data and protect privacy has become an emerging security topic after network security. It is of vital importance to secure data in its entire lifecyle, including generation, collection, storage, circulation, trading, and destruction of data. Data loss prevention is a must-have in enterprise data security and has again attracted much attention of the Chinese market.
Currently, there are several issues in data security, such as unclear identification of sensitive data, lack of clear visibility into data distribution, vague idea of tracking protection, and unregulated use of data. To address these issues, NSFOCUS delivers Data Loss Prevention V6.0 with its experience accumulated over 10 years in data security.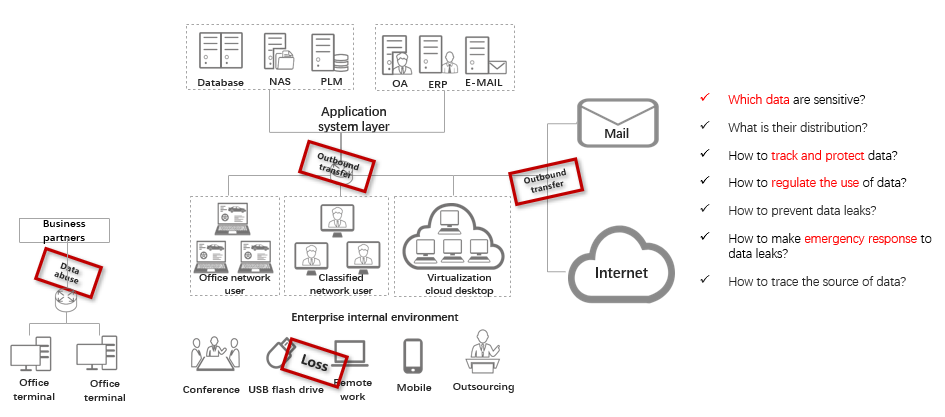 NSFOCUS Data Loss Prevention (DLP) is a comprehensive data security protection product based on multiple technologies, including machine learning, correlation analysis, cryptology, access control, and data identification. NSFOCUS DLP can detect various data leak methods in the data lifecycle and protect data in an all-around way. It can detect potential sensitive data leaks in advance, block ongoing breaches, and conduct post-breach attribution.
It is available in high-performance integrated devices and virtual machine software. The integrated device can detect a maximum of 10 Gbit/s application traffic. The virtual software supports deployment in a variety of cloud environments and is compatible with Chinese homegrown cloud platforms.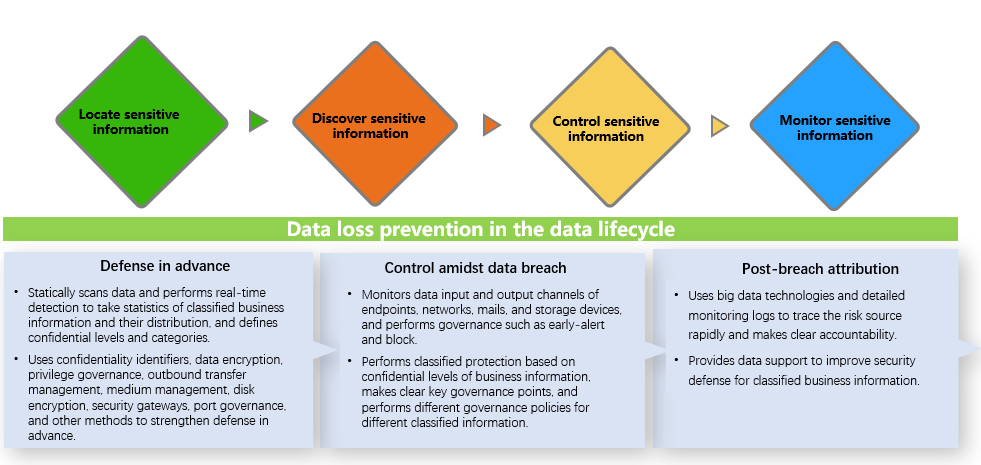 Features
1. Identifies sensitive data more accurately
NSFOCUS DLP can perform intelligent data asset identification in various data storage environments such as endpoints, files, and databases. It offers multiple data identification capabilities based on keywords, regular expressions, document fingerprints, vector machines, and others. It can also detect illegal storage of sensitive data and manage such behaviors with one click.
2. Recognizes more file types
NSFOCUS DLP can detect files of about 3000 types in 11 categories, including text files, image files, office files, audio files, video files, source code files, database files, and compressed files. It can also identify contents of multilayer compressed files and the size of files, as well as contents of nested files and disguised files.
3. Detects more protocols
NSFOCUS DLP can identify and detect data of more than 50 network protocols such as HTTP, SMTP, POP3, IMAP, EXCHANGE, FTP, SMB1, SMB2, and HTTPS, and data from popular networking applications such as web malls, web BBSs, Weibos, and netdisks. It also allows for custom support for certain protocols to satisfy data security defense needs.
References
[1] Tool: Vendor Identification for Data Loss Prevention, September 2022.
Note that Gartner does not endorse any vendor, product or service depicted in its research publications and does not advise technology users to select only those vendors with the highest ratings or other designation. Gartner research publications consist of the opinions of Gartner's research institutions and should not be construed as statements of fact. Gartner disclaims all warranties, expressed or implied, with respect to this research, including any warranties of merchantability or fitness for a particular purpose. Gartner is a registered trademark of service mark of Gartner, Inc. and/or its affiliates in the U.S. and internationally and is used herein with permission. All rights reserved.