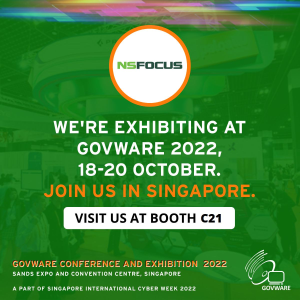 Santa Clara, Calif. October 18, 2022  – NSFOCUS, a global provider of intelligent hybrid security solutions, today launched its Cloud Web application and API Protection (WAAP) service for the Asia Pacific Region at the GovWare Conference & Exhibition held at Sands Expo and Convention Centre in Singapore on 18-20 October 2022.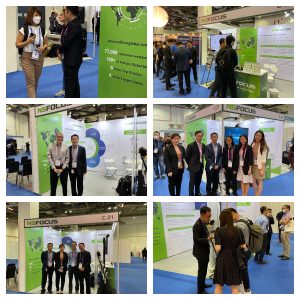 NSFOCUS at GovWare 2022 (Click to enlarge)
Cybersecurity is at the center of businesses of all sizes. With the digital transformation, the attack surface expands significantly, and increasing cyber attacks threaten every organization. Many reports have unveiled a year-on-year increase in the number of cyber attacks in the APAC area. According to NSFOCUS Global DDoS Attack Landscape (H1'22) report, Southeast Asia was the most targeted region globally.
As a leading vendor dedicated to delivering market-proven security products and services, NSFOCUS is bringing organizations in the APAC region with its state-of-the-art Cloud Web Application and API Protection (WAAP) as-a-service to protect their web applications, personal and business data and infrastructure.
The NSFOCUS Cloud WAAP service combines web application firewall (WAF), distributed denial-of-service (DDoS) mitigation, bot management and API protection into a powerful unified solution.
The service always comes with 24*7*365 Managed Security Service (MSS) to ensure the best possible protection and minimum false-positive. NSFOCUS aims to free organizations from daily security maintenance, operations and emergency response so they can concentrate on their core business value.
PROTECTION CAPABILITIES
Robust protection against vulnerabilities, including OWASP Top 10 and more
Protection from zero-day attacks
Sensitive data detection
Identification of probes, scans, and password brute force
Customized policies
Integrates NSFOCUS Threat Intelligence to identify malicious actions or hosts
Advanced bot management
DDoS protection against layer 3, 4 and 7 attacks.
FIRST CLASS MANAGED SECURITY SERVICES (MSS)
Customers can choose to subscribe to either MSS-Basic or MSS-Advanced to get managed fine-tuning of WAF rules, SLA, additional reports, and governance meetings.
Two rounds of turn-up calls are scheduled during the customer onboarding process.
Continuous monitoring and notification of false positives.
Customized policies per application for better protection.
A dedicated Technical Account Manager (TAM) serves MSS-Advanced customers as a focal point for all issues, including configuration, integration, upgrades, and attack mitigation.
NSFOCUS also showcased other security offerings at this event, including its famous DDoS protection solution, global threat intelligence and hybrid intelligent security solution. For more information about NSFOCUS products and solutions, visit www.nsfocusglobal.com 
Read more:
NSFOCUS Included in the 2022 Gartner® Magic Quadrant for Cloud Web Application and API Protection in the Honorable Mentions Section
About NSFOCUS
NSFOCUS, Inc., a network and cyber security leader, protects telecommunications, Internet service providers, hosting providers and enterprises from advanced cyberattacks. NSFOCUS's Intelligent Hybrid Security strategy utilizes both cloud and on-premises security platforms, built on a foundation of real-time global threat intelligence, to provide multi-layered, unified and dynamic protection against ever-evolving cyberattacks.