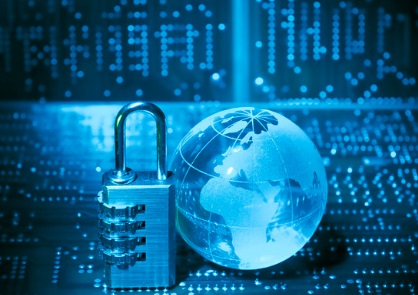 The world's leading research and advisory company, Gartner, has named NSFOCUS as a Representative Vendor in its May 2020 Market Guide for Security Threat Intelligence Products and Services.
This guide provides in-depth analysis of the threat intelligence (TI) market, focusing on introducing its technical value and commercial potential of threat intelligence, and selecting credible vendors globally. NSFOCUS is honored to be named in the list.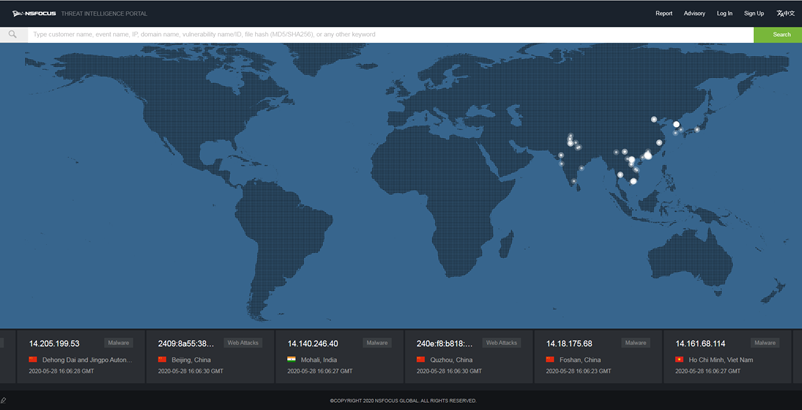 NSFOCUS Threat Intelligence (NTI) can help companies improve their situational awareness and overall security posture by delivering both strategic and tactical intelligence.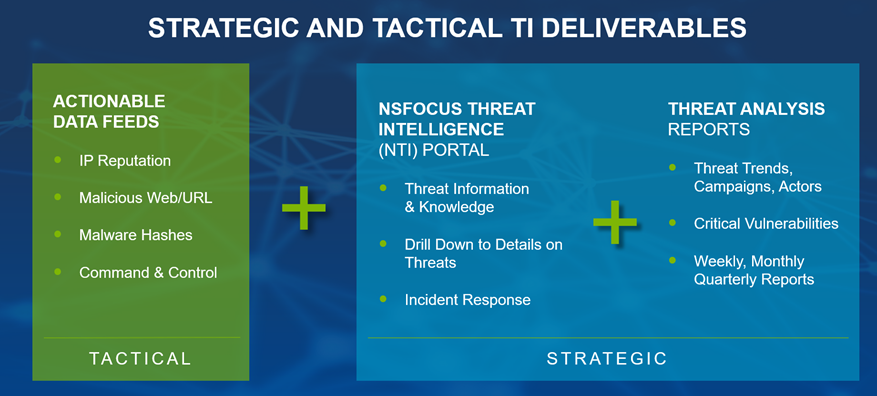 As Gartner suggested: "Clients that decide to purchase services from multiple providers for the purpose of correlating information from disparate sources should ensure that the sources are truly disparate." Most available threat feeds have poor visibility into Northern Asia where over 40% of all malicious Internet traffic comes from. The NTI helps close this enormous cyber-threat hole with fresh, accurate, and unique threat intelligence covering APAC and especially North Asia in depth.
NSFOCUS can easily augment existing threat intelligence through integration with other threat intelligence offerings or SIEM deployments, and across NSFOCUS' network and application security products. It's also one of Hot Products at RSA 2017.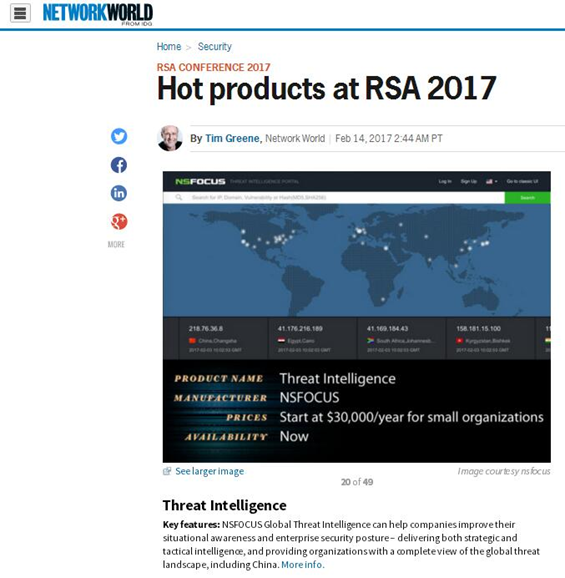 Features
Automated malware analysis, notification and threat hunting
IoT intelligence
Threat trend reports
Attack group and attack tools
DDoS/botnet research reports
Key differentiators
Accurate and unique TI feeds like no other
Over 20% R&D spending to stay ahead of the curve.
A harvest of data gathered by NSFOCUS R&D centers and NSFOCUS Labs over 20 years.
Believable evidence from NSFOCUS's proprietary TI database for forensics
Timely TI alerts, briefings and trend reports comprising practical recommendations.
?Stay up to date on cyber threat events with weekly threat briefings
Know threat trends ahead of others. Reports include:
DDoS attack landscape
Cybersecurity insights
Fintech security analysis report
IoT Cybersecurity Report
Container Security Technical Report
…
Robust API and support for STIX/TAXII V2.0
Palo Alto firewalls covers 40% more threats when integrating with NTI for dynamic defense
ThreatQ is leveraging NSFOCUS to categorize threats and pinpoint valuable connections
VirusTotal partners with NSFOCUS to give customers more insights into behavior of samples.
…
Visit www.nsfocusglobal.com for more resources about NSFOCUS Threat Intelligence
Related links:
https://www.threatq.com/threatq-nsfocus-blog/ https://blog.virustotal.com/2019/05/virustotal-multisandbox-nsfocus-poma.html