Intelligent Hybrid DDoS defence provider claims Top prize for Security Solution of the Year
London, UK – 31 March 2017 – NSFOCUS, the intelligent hybrid DDoS defence provider, has been awarded the Security Solution of the Year at the European IT & Software Awards 2017 (www.iteawards.com) – the leading pan-European awards for ISVs, Solution Providers and Systems Integrators and their vendor and distributor partners. NSFOCUS was awarded this prestigious accolade during last night's ceremony based on its work with the G20 Summit to protect 12,729 key G20 applications, including the Summit's official website and other critical web pages, from DDoS attacks. NSFOCUS was also a finalist in the Public Sector & Utilities Solution of the Year and Security Vendor of the Year categories.
"We are delighted to have been awarded the Security Solution of the Year award and recognised by the industry in such a way is a great credit to the work that we do to protect organisations and service providers from business crippling DDoS attacks. To also be shortlisted in several other categories for these prestigious awards is a great honour and the whole team deserves praise for the effort put in," said Jens Andreassen, Chief Operating Officer, NSFOCUS. "Having a DDoS prevention solution is pivotal for any organisation in this day and age. It is very gratifying to receive recognition for the advanced technology used in our intelligent hybrid DDoS solutions implemented around the world."
The European IT & Software Excellence Awards are the only pan-European awards which recognise the crucial role that ISVs, Solution Providers and Systems Integrators play in the delivery of real world solutions.
Now in its 9th year, the European IT & Software Excellence Awards 2017 attracted more than 500 entries. A total of 61 solution providers, 39 ISVs and 51 suppliers from 28 European countries have made the finals. The awards are given for IT solutions that get to the heart of customer issues, delivering better business, a clearer understanding of data, and more efficient and profitable outcomes.
The award winners were announced on 30th March 2017 at a gala dinner and presentation ceremony.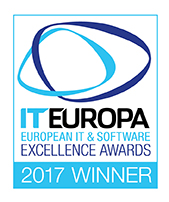 NSFOCUS
NSFOCUS is a global service provider and enterprise DDoS mitigation solution provider, with a proven track record of protecting some of the largest Fortune 500 companies, including the world's largest mobile provider, and four of the five largest global financial institutions. NSFOCUS provides a Complete Service Provider DDoS Mitigation Solution that protects both customers and infrastructure; while enabling providers to deliver Managed DDoS Services with a multi-tenant Platform that produces the lowest operating costs in the industry. The solution combines cloud and on-premises DDoS defenses with world-class global threat intelligence, working in unison to automatically defeat every size, duration, and frequency of DDoS attacks. The solution enables service providers to deliver new revenue-generating services and eliminate the cost of DDoS mitigation.
Visit NSFOCUS: www.nsfocusglobal.com