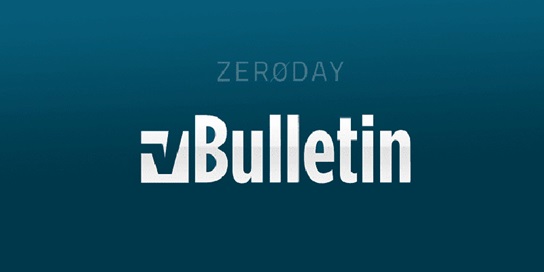 Overview
vBulletin is a powerful, scalable, and fully customizable forums package. Despite being a commercial product, vBulletin is still the most popular web forums package, whether from the market share or the actual installations.
On September 24, 2019, local time, according to a news report, an anonymous security researcher provided details about a 0-day vulnerability in vBulletin in a public email list. This vulnerability allows attackers without an account of the target forum to execute shell commands on a server running vBulletin, and is therefore regarded as a remote code execution vulnerability without requiring authentication.
At the time the vulnerability was disclosed, it is unclear whether the security researcher had reported this vulnerability to the vBulletin team, or whether the researcher made public this vulnerability because the vBulletin team could fix this issue immediately. This 0-day vulnerability affects only vBulletin 5.x.
In the several days after the disclosure, an organization reported that they discovered some attackers in the wild were attempting to exploit the CVE-2019-16759 vulnerability for attacks. Some vBulletin forum moderators also reported discovery of web shells in websites under their management after the vulnerability was disclosed.
On September 26, local time, vBulletin developers released patches for this vulnerability. Users are advised to remediate this issue by referring to security recommendations given below.
References:
[1] https://www.zdnet.com/article/anonymous-researcher-drops-vbulletin-zero-day-impacting-tens-of-thousands-of-sites/
[2] Public email list
https://seclists.org/fulldisclosure/2019/Sep/31
[3] http://feedproxy.google.com/~r/Securityweek/~3/MqX-Favv0oU/vbulletin-patches-vulnerability-exploited-wild
[4] Official security advisory
https://forum.vbulletin.com/forum/vbulletin-announcements/vbulletin-announcements_aa/4422707-vbulletin-security-patch-released-versions-5-5-2-5-5-3-and-5-5-4
Security Recommendations
vBulletin has released the following security patches, which are available at https://www.vbulletin.com/en/customer/account/login/?goto=aHR0cHM6Ly9tZW1iZXJzLnZidWxsZXRpbi5jb20vcGF0Y2hlcy5waHA%3D:
5.4 Patch Level 1
5.3 Patch Level 1
5.2 Patch Level 1
Users of vBulletin before 5.5.2 should upgrade to a fixed version as soon as possible.
Statement
This advisory is only used to describe a potential risk. NSFOCUS does not provide any commitment or promise on this advisory. NSFOCUS and the author will not bear any liability for any direct and/or indirect consequences and losses caused by transmitting and/or using this advisory. NSFOCUS reserves all the rights to modify and interpret this advisory. Please include this statement paragraph when reproducing or transferring this advisory. Do not modify this advisory, add/delete any information to/from it, or use this advisory for commercial purposes without permission from NSFOCUS.
About NSFOCUS
NSFOCUS, Inc., a global network and cyber security leader, protects enterprises and carriers from advanced cyber attacks. The company's Intelligent Hybrid Security strategy utilizes both cloud and on-premises security platforms, built on a foundation of real-time global threat intelligence, to provide multi-layered, unified and dynamic protection against advanced cyber attacks.
NSFOCUS works with Fortune Global 500 companies, including four of the world's five largest financial institutions, organizations in insurance, retail, healthcare, critical infrastructure industries as well as government agencies. NSFOCUS has technology and channel partners in more than 60 countries, is a member of both the Microsoft Active Protections Program (MAPP), and the Cloud Security Alliance (CSA).
A wholly owned subsidiary of NSFOCUS Information Technology Co. Ltd., the company has operations in the Americas, Europe, the Middle East and Asia Pacific.