SANTA CLARA, Calif., Aug 3, 2023 – NSFOCUS, a global provider of intelligent hybrid security solutions, today announced the general availability of NSFOCUS Intelligent Security Operations Platform (ISOP), an innovative security analytics and intelligent operations platform that can streamline the security analyst experience, rejuvenate threat response efficiency and improve security operations productivity.
NSFOCUS ISOP was first developed in 2019 and made available to limited areas and pilot projects. Since then, NSFOCUS ISOP solution has continued to be optimized with the help and recognition of our customers. As of now, the number of customers using the ISOP solution has reached over 2,000. These customers come from various industries, including Internet Service Providers (ISP), Managed Security Service Providers (MSSP), Internet Data Centers (IDC), government agencies, financial services, enterprises, Telcom carriers, healthcare, energy, education and transportation.
"The increasingly complex network environment and rampant network attacks pose significant challenges to the security operation and maintenance of organizations," says Richard Zhao, Chief Operations Officer of NSFOCUS International Business. "Although most organizations have deployed numerous security devices to prevent various attacks, these devices are often isolated. The diverse data and large volume of alerts cannot be timely correlated and analyzed. Even with SIEM platforms, they may still lack in-depth data analysis, alert noise reduction, and automated detection and response, leading to high operations costs but delayed even incorrect remedial decisions. NSFOCUS ISOP integrates multiple technologies and capabilities into a single unified platform, including XDR, NDR, SOAR, AISecOps, UEBA, TI, Vulnerability management, etc. Particularly, the AISecOps features alert noise reduction, which helps organizations address the challenges of expanding data and alert fatigue," Richard says.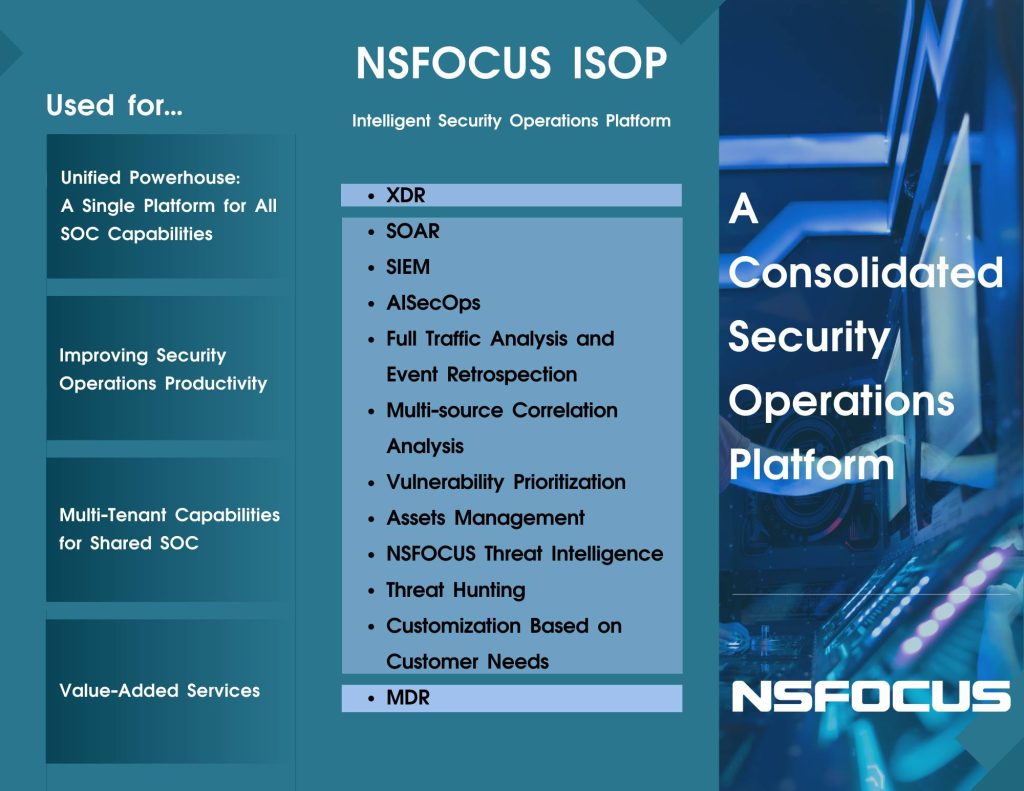 Compared to other vendors using several products to improve security operations, NSFOCUS has designed NSFOCUS ISOP to be a unified and intelligent platform that reduces installation, configuration, and maintenance complexity. Users don't have to manage multiple configurations across different products. The modular architecture of NSFOCUS ISOP also allows users to choose the modules they require and enable functions immediately on demand. Its comprehensive functions can help organizations that lack SOC capability to build and run their own autonomous SOC quickly. In addition, NSFOCUS MDR service is also a supplement for this kind of organization to fill skill gaps. For organizations who already have SOC or SIEM systems in place, NSFOCUS ISOP can be accessed to the existing systems to help organizations carry out in-depth multi-source correlation analysis, reduce alert fatigue, intelligent triage and retain data over a long period for traceability. Its multi-tenant function is also welcomed by MSSP and ISP that leverage shared security infrastructure and expertise to manage multiple tenants and resources centrally.
At NSFOCUS, we are committed to providing the best products and services to customers. We are proud to be a Representative Vendor in Gartner® Market Guide™ for Security Orchestration, Automation and Response Solutions for two years in a row, a vendor listed in Forrester Network Analysis and Visibility Landscape, Q1 2023, and a Representative Vendor in Forrester's Managed Security Services Landscape in Asia Pacific Q3 2022. For more information, visit www.nsfocusglobal.com.