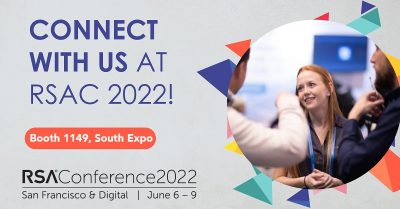 RSA Conference 2022 will kick off in San Francisco on June 6, 2022. The theme of RSA Conference 2022 is Transform[i], which is a further extension of last year's theme Resilience. Resilience can be the emergency and recovery capabilities of small and medium organizations facing cyber threats, and the survival and adaption capabilities of large organizations during the pandemic. Companies of all sizes across the globe have begun to transform to become resilient, and the transformation is ongoing.
NSFOCUS is thrilled to be back at RSA Conference 2022 in person again. This is the 15th year that NSFOCUS has participated in the RSA Conference. This year, NSFOCUS will unveil new capabilities for NSFOCUS's cloud security services and showcase market-approved products and solutions. With years of research and best practices in network and application security, NSFOCUS continues to be an innovator and contributor to a sound global security market.
Visit us at Booth# 1149 in the South Hall to:
Meet with NSFOCUS Executives
Have a talk with company executives in our booth.
Attend In-Booth Presentations
We will have a 10-min presentation to help you quickly learn about NSFOCUS and our products and services.
Learn More about NSFOCUS New Security Capabilities
NSFOCUS will debut new security capabilities of NSFOCUS Cloud Security Services to improve customers' all-around security capabilities.
Get Demos from Product Experts
NSFOCUS's product experts will give you a guided tour of NSFOCUS's products to show you features and ease of use different from all other vendors, with detailed explanations on how these products detect, analyze and mitigate attacks during your business growth.
Get a Gift
NSFOCUS has prepared cute gifts for visitors coming to our booth. Do remember our Booth# 1149 to make sure you won't miss yours.
Register for a Free Expo Pass
Click to register the RSA Conference using our Free Expo Pass Code: 52ENSFOCSXP
We look forward to seeing you in San Francisco next week. If you are not going to RSA Conference this year, visit NSFOCUS at the Marketplace to learn about NSFOCUS and NSFOCUS's products and services, or contact us whenever you would like to get in touch with us.
[i] https://www.rsaconference.com/about/themes