Background
The customer is a leading integrated telecommunications services provider in Malaysia, offering a comprehensive range of communication services and solutions in fixed line, mobility, content, Wi-Fi, and smart services. Any cyber threat to the continuity and availability of business may bring huge economic losses and a reputation crisis. As cyber threats escalate and DDoS attacks tend to be more frequent, massive and complicated than ever, the customer realized that proactive measures needed to be taken to bolster the resilience and availability of their IT infrastructure.
Choosing the Right Technology
The customer approached NSFOCUS for a DDoS mitigation solution that they can rest assured.
To protect business service and network infrastructure more effectively, the customer chose to deploy NSFOCUS Anti-DDoS System (ADS) and Network Traffic Analyzer (NTA) to improve its network security. These systems help the customer to differentiate attack traffic from legitimate traffic by verifying each data packet, and neutralize attacks fast without interrupting the business services. Leveraging the up-to-the-minute behavior statistics, reputation mechanisms, and mitigation algorithms of the systems, the customer is armed with a more granular and precise protection capability against common and newly emerging botnet DDoS attacks.
The customer also uses the NSFOCUS Anti-DDoS System Manager (ADS M) to simplify security operations. This product can manage the ADS and NTA systems and have all DDoS threats visible to customers. Moreover, the client portal on the ADS M allows the customer to view their clients' security posture through an intuitive dashboard and get detailed security reports to adjust protection policies in real time.
If we say having the Anti-DDoS devices in place is good, having proactive prevention awareness and capability is perfect! None of the countermeasures will be better than nipping attacks in the bud. NSFOCUS DDoS mitigation solution integrates NSFOCUS Threat Intelligence, truly global information unlike services provided by other vendors, to augment threat detection capability and help the customer mitigate risks before being caught in targeted attack crosshairs.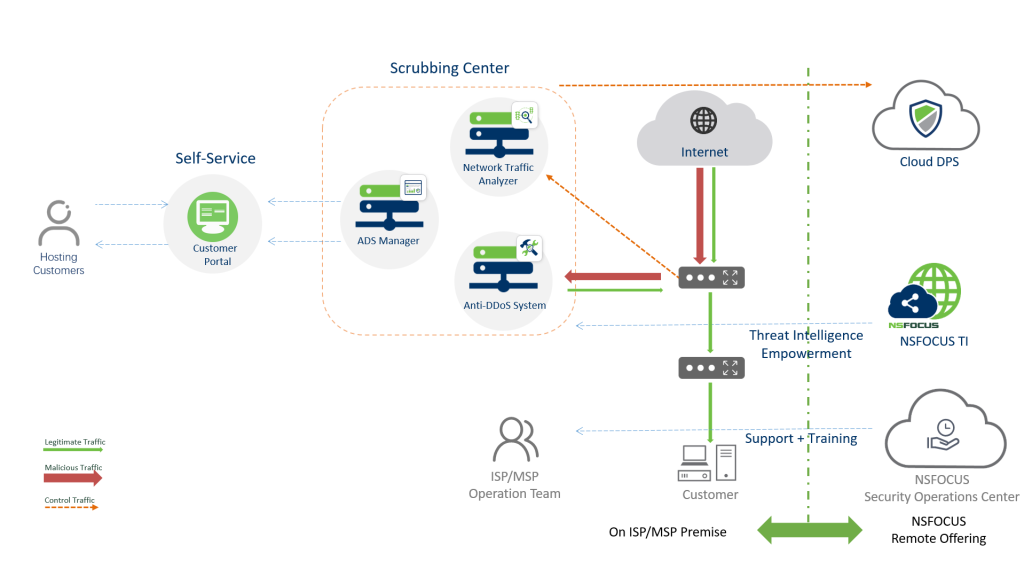 Creating More Value
The customer also cooperates with NSFOCUS to provide value-added service with advanced protection against DDoS attacks. The investment in DDoS security not only protects their own network infrastructures but also develops value-added services and gets a significant ROI with a multi-tenant platform that produces the lowest operating costs in the industry.
Result
After deploying the NSFOCUS Anti-DDoS solution, the customer has averted a number of DDoS attacks that leveraged botnet. The multi-layered protection featured in the DDoS mitigation solution ensures legitimate users can access the services without trouble. Now the customer's IT infrastructure is under protection without human intervention, reducing response times and providing more value to its customers.
Benefits
NSFOCUS DDoS mitigation solution significantly improves the customer's security program and gives the customer confidence to defend against modern DDoS threats.
NSFOCUS DDoS mitigation solution also provides much-needed threat visibility and mitigation for the security team, allowing them to focus on business-critical issues with NSFOCUS devices as an extension of their security infrastructure.
NSFOCUS MSSP Enabling Solution also allows the customer to tap into the highly lucrative DDoS protection service market without distracting from its core business, which means that it will bring an additional edge over rivals.