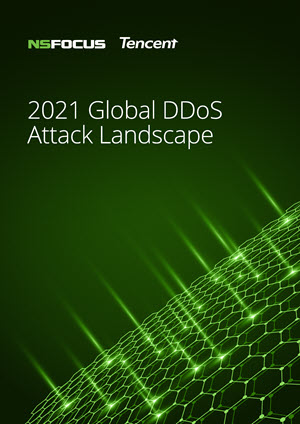 MILPITAS, Calif. – January 28, 2022 – NSFOCUS, a leader in holistic hybrid security solutions, today released the 2021 Global DDoS Attack Landscape, a joint report by working with Tencent, which found that DDoS attacks have entered the terabit era with the largest DDoS traffic peaked at 2.4 Tbps (or 3.25 Tbps according the latest news from Microsoft) this year, making 2021 as the fifth year of terabit-class attacks. DDoS attacks continue to grow in number, scale, sophistication and speed.
Key findings in the 2021 Global DDoS Landscape Report include:
DDoS attacks are gaining momentum in recent years, as outsized and diversified attacks are raging through the cyberworld.
DDoS attack gangs have been propagating DDoS botnets and expanding the range of reflection attacks.
Botnets have become a main tool for carpet-bombing DDoS attacks.
DDoS threats may become the preferred extortion method of cybercriminal gangs.
The main victim industries are beginning to diversity, but the gaming industry still tops the target list of attackers.
To download a copy of the report, please visit:
https://nsfocusglobal.com/company-overview/resources/2021-global-ddos-attack-landscape/