IDC released the market share research report on China's hardware WAF market share recently. NSFOCUS ranks first with a market share of 11.9%, leading the WAF market in China for four consecutive years from 2019 to 2022.
NSFOCUS's next-generation WAF has been selected by more than 5,000 organizations and has become the preferred WAF product for customers in such industries as telcos, finance, education, government, energy, enterprises, education and healthcare.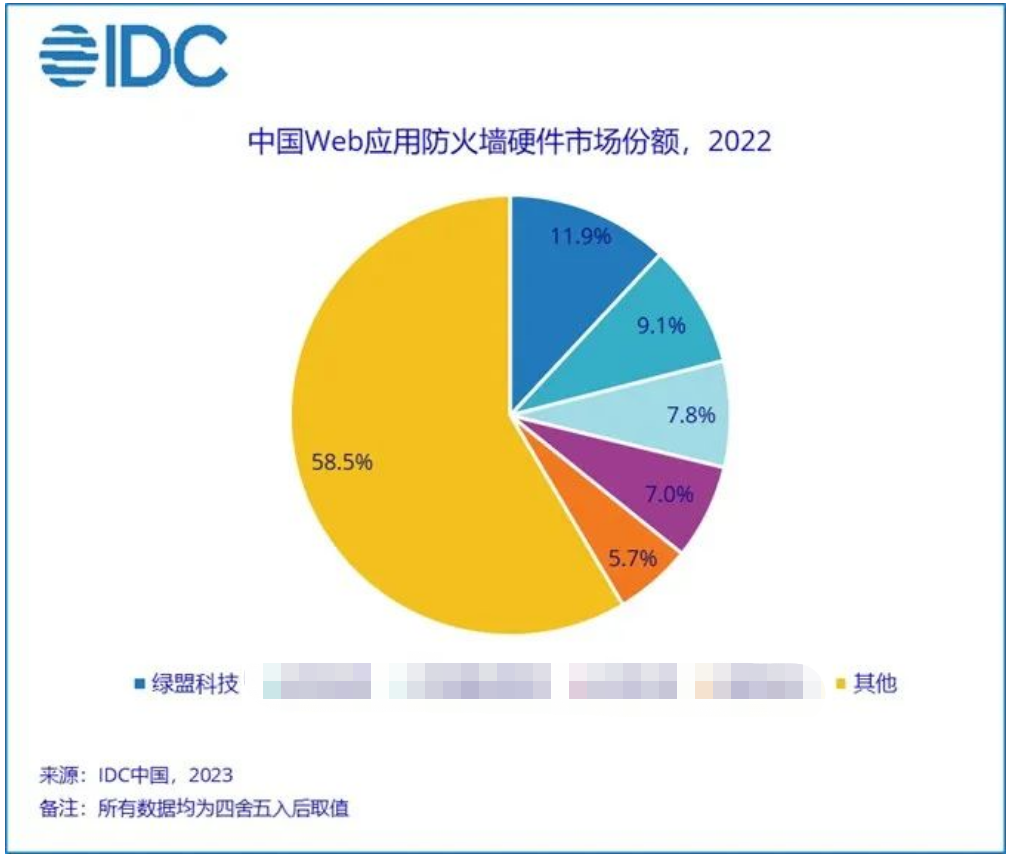 NSFOCUS WAF In Analyst Reports
NSFOCUS released the first WAF products in 2008. Since then, we have specialized in technology and continue to lead the market trend.
A "Honorable-Mention" vendor in Gartner Magic Quadrant for Cloud Web Application and API Protection 2022
Ranked first in IDC Web Application Firewall (Hardware) Market Share in China for 4 consecutive years (2019-2022)
A Sample Vendor in Forrester Tech Tide™: Zero Trust Threat Prevention 2022 in WAF Technology Category
Listed in Forrester Now Tech: Web Application Firewalls, Q2 2022
Selected in Forrester Now Tech: Bot Management, Q4 2021
A Niche player in Gartner Magic Quadrant for 4 consecutive years
(2014 – 2017)
A Notable Vendor in Asia/Pacific Context "Magic Quadrant for Web Application Firewalls, 2018"
Top 1 in the Greater China market for 8 consecutive years according to Frost & Sullivan (2010 -2017)
One of the top vendors in the Asia-Pacific Web Application Firewall market according to Frost & Sullivan reports (2012 – 2015)
2011 Frost & Sullivan WAF China Market Share Leadership Award
Integrated Web Security Solution
Starting from web applications and APIs, NSFOCUS's next-generation WAF provides a collaborative solution integrating DDoS protection, Bot traffic management, web Application Firewall and API protection based on multiple threats faced by users such as web vulnerability exploitation, resource abuse, and resource access control. It upgrades the overall security architecture to ensure users' web application security, business security and data security, providing end-to-end protection for users.
1. Super Protection against Zero-day Vulnerability
NSFOCUS has accumulated web protection rules for more than 15 years. It identifies various web attacks in combination with semantic analysis, AI security models and threat intelligence. It can not only intercept known web attacks, but also support defense against 0-day attacks. Its identification accuracy is leading in the industry and its missed alarm rate is extremely low. In 2021, NSFOCUS WAF successfully intercepted and blocked vulnerability attacks exploiting remote code execution vulnerability Apache Log4j2 by generating effective protection rules instantly.
2. AI-enabled for In-depth Analysis
Integrated AI security model, NSFOCUS next-generation WAF supports automated operations process. It is capable of analyzing massive alerts, and performs attack tracing, research and response automatically in combination with contextual information, payload, and associated behaviors. NSFOCUS WAF streamlines security operations and maintenance, improving work efficiency by 50% without the need for extensive security expertise.
3. Simplified Operations and Quick Configuration
NSFOCUS's next-generation WAF is designed for easy out-of-the-box use, ensuring a seamless setup and quick deployment. With minimal configuration required, users can start using it right away to meet their needs. NSFOCUS WAF has refined policy configuration, flexible and adjustable rules, and provides many built-in templates to help users cope with complex and changeable web attacks by using AI capabilities.
4. Flexible Deployment and Reliable Operation
NSFOCUS's next-generation WAF supports multiple deployment modes, including sin-line mode, pass-through mode, single-arm reverse proxy, bypass proxy, bypass mirroring, and cluster mode. In the Nginx plug-in cluster mode, there is absolutely no compromise to the service network. NSFOCUS next-generation WAF has multiple highly reliable mechanisms to ensure the stable and high-quality operation of users' web services. Web message latency is less than 60 microseconds.
Full Coverage of Security Scenarios
API Protection
NSFOCUS next-generation WAF can automatically identify APIs according to baseline traffic, help customers sort out API assets and identify botnet APIs; ensure reasonable invocation of API interfaces through OAS compliance inspection to avoid customer losses caused by injection attacks or overflow attacks; it can also configure site protection policies to effectively defend against various known and unknown threats caused by API asset vulnerabilities.
Dynamic Bot Protection
NSFOCUS' next-generation WAF automatically distinguishes and handles the traffic from humans and bots. Through dynamic page mixing and submission data encryption, it effectively prevents automatic attacks such as crawlers, vulnerability scanning and taking advantage of promotions to obtain maximum freebies. NSFOCUS WAF identifies and intercepts bot traffic accurately, and reduces the risk of website vulnerability exposure and business congestion while improving operations productivity on the service side.
Widely Adaptable to Cloud Scenarios
NSFOCUS' next-generation WAF has advanced cloud capabilities and supports adaptation and integration with 14 types of cloud environments, widely applicable to mainstream private cloud, public cloud and hybrid cloud. The product capabilities are fully API-based, supporting cloud-native WAF and protecting microservice applications.