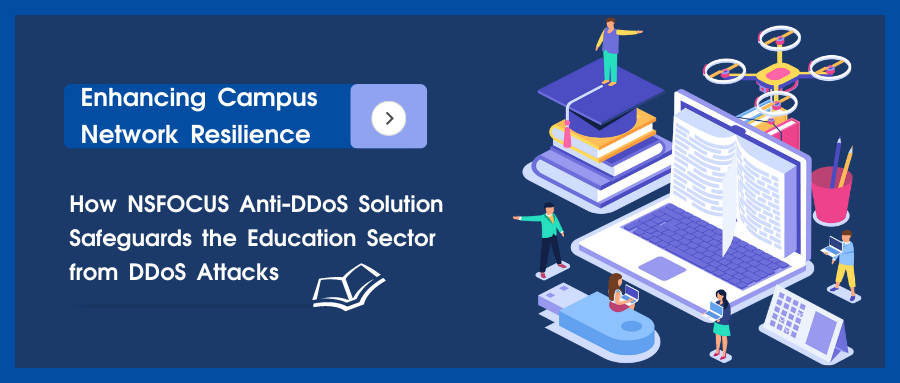 Customer Overview
The customer is a leading research-intensive university in Asia, with a distinguished history and a reputation for excellence in teaching and research. The university has a large campus network that serves students, faculty, staff, external partners, and visitors. With the increasing threats of DDoS attacks, the customer recognized the need to implement a robust and reliable Anti-DDoS solution to protect its network from disruption.
Challenges
As a large and highly visible institution, the customer is a prime target for cybercriminals looking to launch DDoS attacks. These attacks can cause significant disruption to the campus network, leading to service outages, degraded performance, and data loss. To protect its network and ensure business continuity, the customer needed a DDoS mitigation solution that could provide comprehensive protection against all types of DDoS attacks, including the volumetric, protocol, and application-layer attacks.
Solution
The customer launched an open tender for a DDoS mitigation solution to protect its campus network from DDoS attacks. After a rigorous evaluation process, the customer selected NSFOCUS Anti-DDoS solution.
NSFOCUS Anti-DDoS solution was deployed at the customer's campus data center, which serves as the gateway for all incoming and outgoing network traffic. The solution was configured to provide real-time traffic analysis and mitigation, leveraging advanced algorithms and machine learning to detect and block DDoS attacks in real time.
NSFOCUS Anti-DDoS solution also included a range of features designed to enhance network security, such as blocklist and allowlist, IP filtering, and SSL decryption. The solution was integrated with the customer's existing security infrastructure, allowing for seamless and automated threat response across the network.
Benefits
Since the deployment of the NSFOCUS Anti-DDoS solution, The customer has experienced a significant reduction in DDoS-related incidents. The solution has proven to be highly effective in detecting and mitigating DDoS attacks, providing the customer with a robust and reliable defense against growing cyber threats.
With NSFOCUS Anti-DDoS solution in place, the customer can now proactively monitor and manage its network traffic, ensuring that critical services remain available and secure at all times.
In addition to its advanced threat detection and mitigation capabilities, NSFOCUS Anti-DDoS solution has also improved the customer's overall network security posture. The solution's comprehensive capabilities have helped the customer to better manage its network traffic and block potential threats before they can cause any harm.
Customer Satisfaction
The customer is highly satisfied with NSFOCUS Anti-DDoS solution, and the pre-sales and post-sales service provided by NSFOCUS. The NSFOCUS team was responsive and provided fast and effective support throughout the deployment process. The solution has been running smoothly and has helped the customer avoid any major DDoS-related incidents, which could have resulted in significant disruption to the campus network.
NSFOCUS Anti-DDoS solution has proven effective and reliable for protecting the customer's network against DDoS attacks. With its advanced traffic analysis and mitigation capabilities, the solution provides the customer peace of mind, letting them focus on their core mission of teaching and research. NSFOCUS's commitment to customer service and support has also been a key factor in the customer's satisfaction with the solution.