Threat Intelligence
Modern cyber criminals are sophisticated, creative and can draw on an increasing library of automated tools to easily vary their attack techniques. Every single day, new threat actors, threat vectors and vulnerabilities are discovered from around the world, and the most effective security products use this information continually to improve their accuracy and performance.
NSFOCUS is at the forefront of threat research and analysis. Our global research team and threat intelligence centers combine real-world threat research, visualization technology and a big data platform to correlate events, discover new vulnerabilities and develop effective counter-measures. Data from an extensive honey-pot network and millions of participating customers, representing all major industries, is used to identify new threats and exploits. Our threat intelligence spans the globe and includes threat activity from China which allows us to provide our customers with the most complete view of the evolving threat landscape possible.
Through our research, NSFOCUS has won the Microsoft Bug Bounty Program Award four years in a row and is a regular contributor to the Common Vulnerabilities and Exposure (CVE) database and more.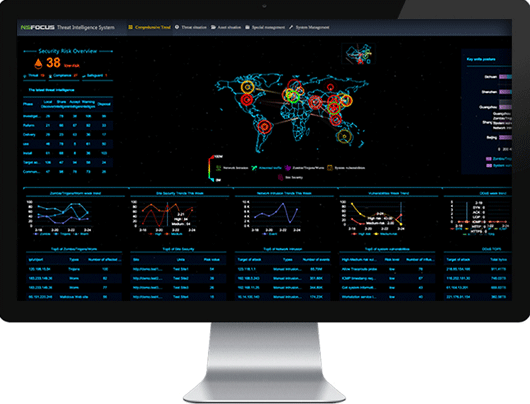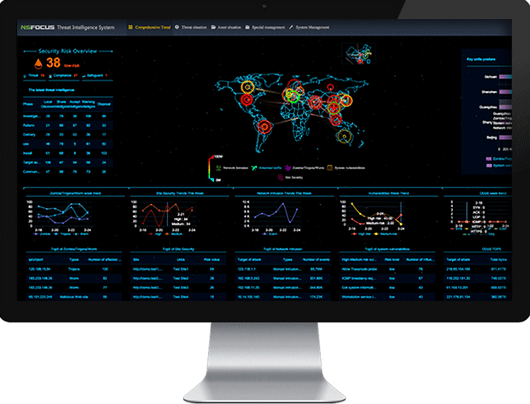 All of our network and application security products are developed using the latest threat intelligence information available. We also provide a Threat Intelligence Subscription Service which includes four separate data feeds that integrate actionable threat intelligence directly into our products. These feeds are also the perfect complement to existing SIEM or TIP systems and are easily integrated via a standards-based API. NSFOCUS is continually investing in our threat research capabilities and will be introducing several innovative threat intelligence products throughout the year.
To learn more, contact us.