Intelligent Hybrid Security
Since the dawn of the Internet, organizations have felt the effects of cybercrime. Every business connected to the Internet has been forced to deal with this criminal element, spending endless amounts of money trying to protect themselves from it. The reported DDoS outages and breach statistics are astounding, yet organizations continue to deploy point solutions designed to only solve one specific problem at a time. Organizations need to ask themselves why all the recommended technologies they've deployed still haven't solved the problem. Nearly everyone can agree that a new strategy is needed to protect today's online enterprises.
NSFOCUS takes the unique approach of using both cloud and on-premises security platforms, built on a foundation of real-time global threat intelligence, to provide unified, multi-layer protection from advanced cyber threats. No more silos, no more segmented views.
NSFOCUS Intelligent Hybrid Security is a new strategy designed to solve your cybersecurity problems.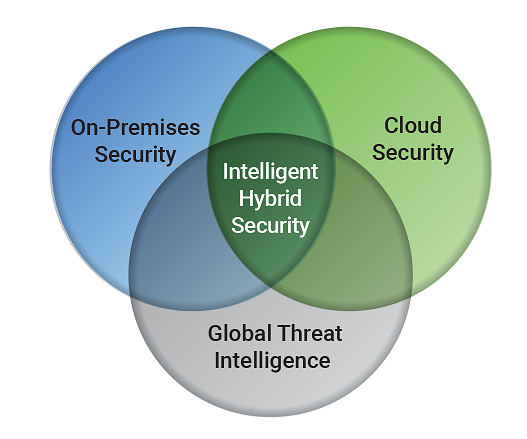 NSFOCUS – Intelligence in Action
Global Threat Intelligence:
An accomplished, worldwide team of researchers and engineers from the NSFOCUS Security Lab (NSL) creates and curates threat intelligence using data from around the world, including NSFOCUS monitored sensors, honeypots and managed networks in China. Our team has access to information not readily available in other offerings, and allows us to provide our customers with the most complete view of the evolving threat landscape possible. Founded in 2000, the NSFOCUS Security Lab (NSL) is an internationally-recognized cyber-security research and threat response center at the forefront of vulnerability assessment, threat detection and mitigation research. The NSL is the only security research facility to win the Microsoft Mitigation Bypass Bounty for four consecutive years (2013, 2014, 2015 and 2016).
Cloud Security:
The NSFOCUS Cloud Security Platform provides customers with easy access to industry-leading security services designed to keep you connected and protected. Our Cloud Centers have been specifically designed to deliver high performance, reliable, network and application security. They are geographically distributed and strategically located in Virginia, California, London, Frankfurt, and Singapore. Our Cloud Centers are used to provide protection from debilitating and costly DDoS attacks and are instrumental in the secure delivery of our global threat intelligence services.
On-Premises Security:
Our on-premises solution consists of network and application layer security products delivered as optimized hardware appliances or software that can be installed in a virtual machine environment. These solutions include an Anti-DDoS solution (ADS), Web Application Firewall (WAF), Next Generation IPS (NGIPS) with Threat Analysis (sandboxing) used to identify new and emerging threats.
Our customers use intelligent hybrid security to provide the most comprehensive protection from advanced threats possible. Whether the attack originates from the cloud, or the exploit occurs from inside your network, leveraging these platforms together ensures you can protect your critical data and maintain vital business continuity.