Cloud Security
The NSFOCUS Cloud provides customers with easy access to advanced security services, and offers comprehensive, end-to-end protection from a single source when used in combination with NSFOCUS' on-premises equipment.
The initial offering, NSFOCUS Cloud DPS (DDoS Protection Solution), underscores our commitment to protect enterprises against large-scale, debilitating and costly cyber-attacks. The Cloud DPS Solution is built using NSFOCUS' industry-leading DDoS mitigation and protection solutions – providing customers with critical defense via a robust cloud security platform and seven geographically distributed Cloud Centers.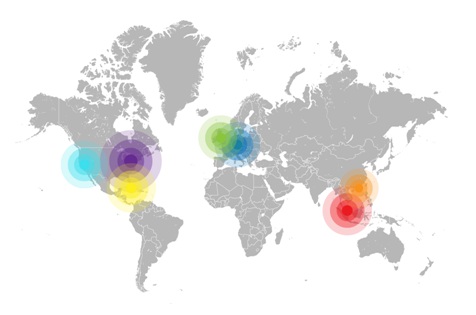 Purple – Ashburn; Yellow – Miami; Teal – Silicon Valley; Green – London; Blue – Frankfurt;
Red – Singapore; Orange – Hong Kong;
*Contact NSFOCUS sales for the latest coverage map
Our Cloud Centers are geographically distributed and located with the largest Internet exchanges. This minimizes latency, improves response times and reduces backhauling traffic costs. Our Cloud Centers have been built to withstand the most extreme network conditions and provide secure, scalable and flexible services.
A convenient web portal provides customers with service access and control.
Key features include:
View active attacks
View graphs for total & clean traffic
View previous attack history
Under attack Panic button
Automated mitigation
Remotely Triggered Black Hole (RTBH)
Disable mitigation to an IP
Automatic customer alerts
Enforced password complexity
Login/account activity audit log
Reseller/partner views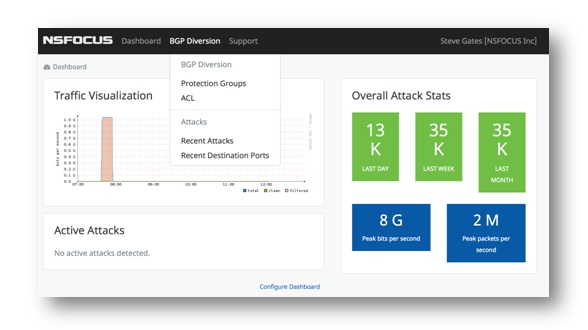 Our high capacity cloud infrastructure is also being extended to include a broad range of security products, including web application firewall and web vulnerability scanning.
To learn more, contact us.